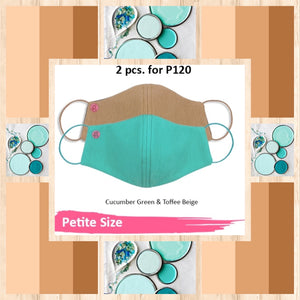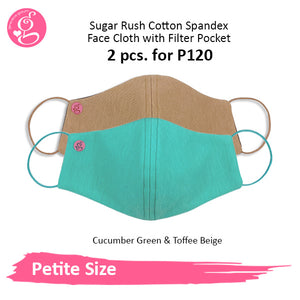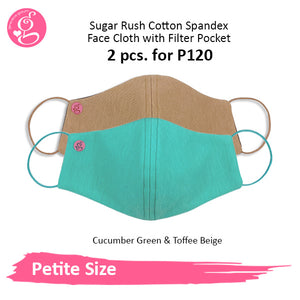 ABOUT THIS ITEM: PETITE SUGAR RUSH COTTON SUPER STRETCH PLAIN (sold by 2 pcs)
ABOUT THIS ITEM: PETITR SUGAR RUSH COTTON SUPER STRETCH PLAIN  (sold by 2 pcs)
Brand:  Genevieve Gozum
Size:  PETITE size for small face adult or young adult
width:  12.5cm length: 14cm
UNISEX
Actual color combination is base on photo.  Cannot change the combination.
This face mask is made of 2 layers of material.
TOP LAYER is made our of cotton spandex.
BOTTOM LAYER is made out of our bestseller TAUPE cotton material that is very breathable.
It features a filter pocket (filter not included with the mask).
This item is washable, can be cleaned with OXYGEN BLEACH and maintain its color.
The new garter elastic has been developed especially for face mask.  The color used is the same as the fabric.  It's SMALL BUT SRONG AND COMFY.
Note: This item is not medical grade.